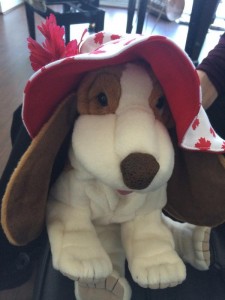 The Frankfurt Book Fair opens today. Two years ago, I attended it along with Noreen (seen here sporting her Maple Leaf hat), the author of "Lovely To Look At: What Animals Should Know About Humans."
In the past, large international book fairs such as the Frankfurt Buchmesse and the London Book Fair (and BookExpo Canada, when we were lucky enough to have one here) didn't encourage writers or other members of the public to attend these professional publishing gatherings. But major changes in the publishing business have forced organizers to acknowledge that remaining a closed shop is not in their best interest. 
I was surprised two years ago to see that the Frankfurt Book Fair devoted a day to welcoming the public. And on another day, they welcomed schoolchildren. It makes perfect sense.
In the coming months, I'll be writing about the experiences I had at the many book fairs at which I displayed The Mammalian Daily. Stay tuned.