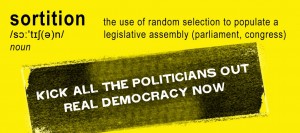 Just a quick post about elections (or, more correctly, elections vs sortition).
One of the fun things about creating a world from scratch, as I did in The Mammalian Daily, is deciding how your characters will live and, in this case, how they will govern themselves.
Since The Mammalian Daily was a political statement in itself, I deliberated for a long time about the best choice of government for the animals who live in The Park. My choice of sortition didn't just have its origins in my studies of the classical world; it made sense to me, as it did to Aristotle.
The Animals in The Park are still debating the subject and there are many, including director Douglas Cheetah, who are pushing to adopt elections. But I have faith that sortition will stand its ground, at least as long as Sylvana Rana, president of Save Our Political System (SOPS) fights for it.